You have nothing to lose. Try our Vedic astrological gemstones. Its work! Nature will not come knocking on your door to help you or guide you. It is up to you to euphony and be a good conductor with Nature by wearing our beneficial gemstones.
Yellow Sapphire (Jupiter)
Jupiter rules the Pukhraj or Yellow Sapphire. It is of yellow color and whatever class it belongs to, it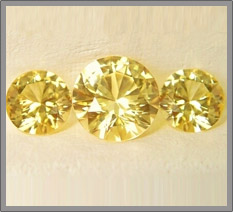 is used for getting the benevolent blessings of Jupiter.
An unblemished yellow sapphire (often-called Topaz, a substitute semi-precious stone) gives the wearer, good health, wisdom, property, longevity, name, honors and fame. The wearer is blessed with children. It gives protection from evil spirits. It is believed that if there are obstructions in getting a suitable match for a girl, she gets married early by wearing a yellow Sapphire. Blemished gemstones are the cause of many troubles. A stone with cracks invites threats or theft. One without luster and transparency creates enemies and causes disharmony in the family. A milky stone invites injuries to the body. The one with a web causes stomach disorders. The one with red dots on it destroys wealth. The stone with a depression causes anxiety and disturbs peace of mind.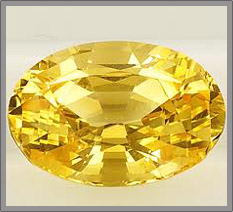 Who Should Wear A Yellow Sapphire?
Yellow Sapphire is the gemstone ruled by Jupiter. There is some difference of opinion whether the Sapphire assigned to Jupiter is the white Sapphire or the yellow Sapphire.
Copyright © TUNRNING POINT GEMSE 2011 All Rights Reserved