You have nothing to lose. Try our Vedic astrological gemstones. Its work! Nature will not come knocking on your door to help you or guide you. It is up to you to euphony and be a good conductor with Nature by wearing our beneficial gemstones.
Pearl (Moon)
Benefits of Wearing Pearl - The Gemstone of Cance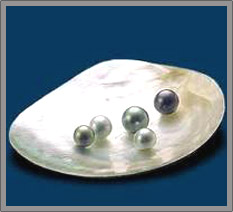 Pearl is the gemstone for the Zodiac Sign Cancer. This gem is associated with the Moon which is representation of the mind. The sub stones or substitute stones of Chandra are white coral, moon stone and milky agate. This gem is also referred to as 'Moti'.
Pearls are obtained from the Sea. Pearls are available in different shapes and colors. Pearl is the Queen of Gems and an emblem of purity, innocence. Wearing pearl reduces anger and unwanted thoughts. It also brings wealth and happiness and stability in life. This is one stone anyone can wear and make fantastic ornaments. There are no negative results unlike other gems. Pearls should be worn when your horoscope calculates your weakest planet as the Chandra or Moon. Pearl can also be worn if a person is mentally weak and exceedingly emotional or have uncontrollable anger or worries. This gem should also be worn by those who are pessimistic or under depression and brings a calming influence on the mind and increases feelings of love and compassion for other people.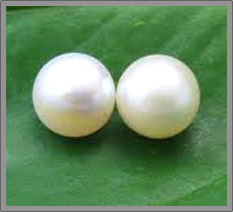 The minimum one should wear pearls is 4 carets. It is more auspicious to wear 5, 7, or 9 carets or 109 beads pearl Mala. The Ornament should be made in silver and worn on a Monday before 10 AM after washing it in holy water and unboiled milk and after touching the pearl on the feet of Lord Shiva. The mantra for wearing pearl is
"OM CHANDRAYA VIDMAHE, LAKSHMI SAHODHARAYA DHEEMAHEE THANNO SASISEKHARA PRACHODAYAT "and" OM SRAAM SREEM SROUM SAHA CHANDRAMASE NAMAHA".

How to wear Pearl
Procedure of Wearing Pearl
On the day start off by invoking the blessings of Lord Ganesha and then follow it with the Chandra mantra 108 times. It is advisable to recite the Chandra Mantra every Monday during the first hour from sunrise for 9 continuous Mondays to charge the Pearl. The maximum effects of wearing pearl lasts up to 2 years from the day of wearing it.
One can buy or gift Pearls on occasions like Weddings, graduation, valentines day, anniverseries etc as it is considered a very auspicious gift. Online shopping stores like EBay and Amazon have a wide range of Pearl Jewelry. To know more about different Gemstones visit the link to my Gemstone Hubs.
Copyright © TUNRNING POINT GEMSE 2011 All Rights Reserved